ドイツ産エピックペイガンブラックの
WOLFCHANT
ですが、11月に
CCP-Records
からリリースされる「Bloody Tales Of Disgraced Lands」が、
Metalmessage
で好評価を得ていました♪
以下、コピペっす。
WOLFCHANT
"Bloody Tales Of Disgraced Lands"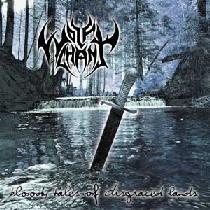 (CCP) 9/10
To the extensive green forests and picturesque mountains of its Bavarian homeland, this hopeful formation of entire heart feels very close. On musically plain such passions can be enjoyed probably best only with vigorous heathen metal, which abounds with pure energetic sound power. This quintet, established in the year 2003, plays therefore highly melodic and marvellous hymn epic pagan metal with far expanded bandwidth of moods and grim masculine vocal lines. The existing debut album of this meeting represents a gigantic increase to its previous outputs. Therefore also a record label bit now in the hook. Wolfchant let the previous demo- and self-production-rail, which became travel on with the 2004 Demo-CD "The Fangs Of The Southern Death" and the short time later under the listeners brought mini-album "The Herjan Trilogy", definitive finally behind itself now: CCP Records publish now the new debut-concept-album "Bloody Tales Of Disgraced Lands" of these five nether-Bavarian nature-admirers.
Various tonal loans out of the black- and Viking metal were here not missing as same as diverse sagas and legends out of the old Nordic mythology, with which these playing joyful tamers of the wolfs embellish its song texts. And the lyrical plain is in Wolfchant through and through filled with heathenish idealism and massive longing after the good ancient times. Numerous just as charming as sensitive acoustic guitar arrangements serving that very strong minded drink-horn-troop as perceptive possibility, to awake thrilling ancient atmospheres for life. By means of surprisingly unused seeming and extremely easily remembered melodies, tying up refrains and with high energies played instruments Wolfchant become the Pagan-, Viking- and Heathen Metal-audience likewise convinced. The current compositions show Wolfchant as innovative composers, which are audible ripened on this relevant creative plain – they are also extremely well therein, to transfer its creations with their instruments in skilled manner. And how one knows, leads the one without the other on this sector actually almost never to really useful results. Here we have therefore the correct mixture. For these new pagan-anthems and its predominantly rousing energetic song structures, altogether created with immense abandon, are gotten through of stunning unconsumed and powerful refreshing creative impulses.
The songs on "Bloody Tales Of Disgraced Lands" contain various cross-references at the old brightness deeds of perch north hordes as Thyrfing and Mithotyn as well as not to ignore accords at Scandinavian success-models as Ensiferum and Moonsorrow as well as the German inland- and export-successors Equilibrium. Nevertheless the five Bavarian wolf-disciples prove itself on "Bloody Tales Of Disgraced Lands" fortunately as independent enough, in order by means of its ore heroic sounds to attain just as productive as continuous audio pleasure. On melodic creativeness, the five music-enthusiasts out of the Bavarian forest execute again and again apparently high metres of tonal enthusiasm-leaps, that construct themselves partly in racing quickly unloading guitar-licks, partly in powerfully pulsating sound colours and partially in high-epic eminence of majestic gracefulness. The vocally remarkably angry acting by front-giant Lokhi fits simply perfectly to the massive instrumentally construction, for also he sells itself with not insignificant intensity, but turn itself head over heels with fury and rage, no, that generally seems not important in his mind. Wolfchant, these enormously talented advocates of heathen values, own in the deed a condemned good smell for the golden and full-mouthed middle course. They put entirely large value to each second on the authentic realness of its efficient attacks, how from the beginning to the end of this album reveals itself. Operation tribute to the wolves was done therefore superior by them.
Markus Eck
こんなん書くつもりなかったけど、メンバーから「多分、キミのサイトにもこのレビューを載せてもいいと思うよ!」とか言われたんで、渋々(笑)
MetalmessageのMarkusからもメールもらっちゃいましたからね。
それならオレにも早いとこ音源くれよ!とか思ったのは内緒です(爆)